Home > Electronic Banking > APCI eMobile
APCI eMobile


With APCI eMobile, you can access your accounts securely from your mobile device.

Now it is easier than ever to:
Check balances
View transactions
Transfer funds and make loan payments within your APCI FCU accounts
Receive account alerts
Deposit checks using your mobile device with APCI eDeposit
On June 27, we released an upgraded version of our app.
Members now benefit from the following changes:
Shortcuts for APCI eDeposit and transfers will appear on the Account Balance screen
The edit pencil icon will allow you to hide or display shares and loans and adjust the order of the accounts listed
A new Contact Us screen will provide direct hyperlinks to our phone number, email, and a location map
APCI eDeposit will automatically take a picture and provide alternate views of the check image
Android will have a customizable landing page and Touch ID capability
iPhone 10 will have facial recognition capability
► Important: The proper way to endorse an APCI eDeposit check is to write "For mobile deposit only" under your signature on the back of your check. Please use this endorsement every time you deposit a check with APCI eDeposit.

APCI eMobile Access
Web Mobile Enrollment: Log in to APCIRCUIT® PC Home Banking Service and select the "Settings" tab followed by "eMobile Settings." Activate the accounts you want to access on your mobile device to complete web mobile enrollment.

Mobile Web Option: Log in to your APCIRCUIT PC Home Banking Service account with our mobile website. A mobile device with internet access is needed. No app is required. Visit apcifcu.org/APCIeMobile to log in.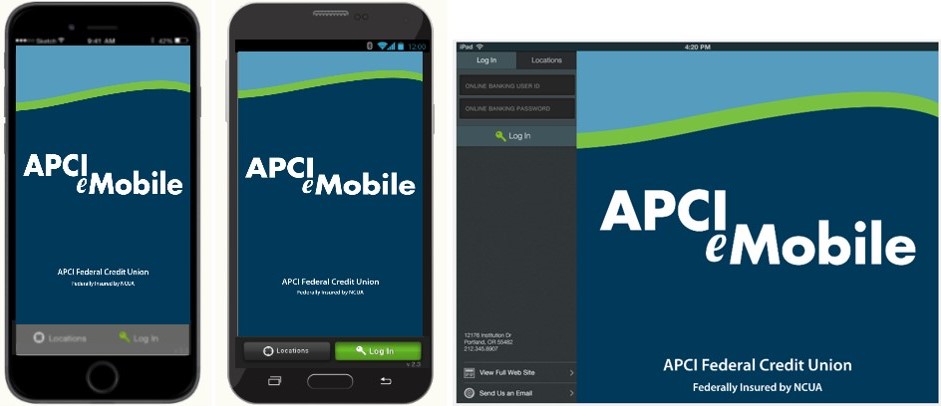 Enjoy the convenience of the APCI eMobile App for your iPhone, Android or iPad device.

► Click here for answers to many frequently asked questions