Home > Checking & Savings > Youth, Young Adult & Seniors > CU Kids Klub
CU Kids Klub
Welcome to the Klub!
Kids Klub is a special savings program for children ages 5 - 12. Benefits include:
Semi-annual newsletters just for kids
Birthday greeting and gift*
Create a holiday ornament and receive a primary share savings account credit
The key to this program's success is SAVING! We'll help to make saving fun and easy.
*Kids Klub activities are for members between the ages of 5 - 12 years old. Birthday card and gift will be mailed at the beginning of the month in which members birthday falls (child must be between the ages of 5 - 12 years old in the month of distribution). No information is collected or retained on this website from children under the age of 13.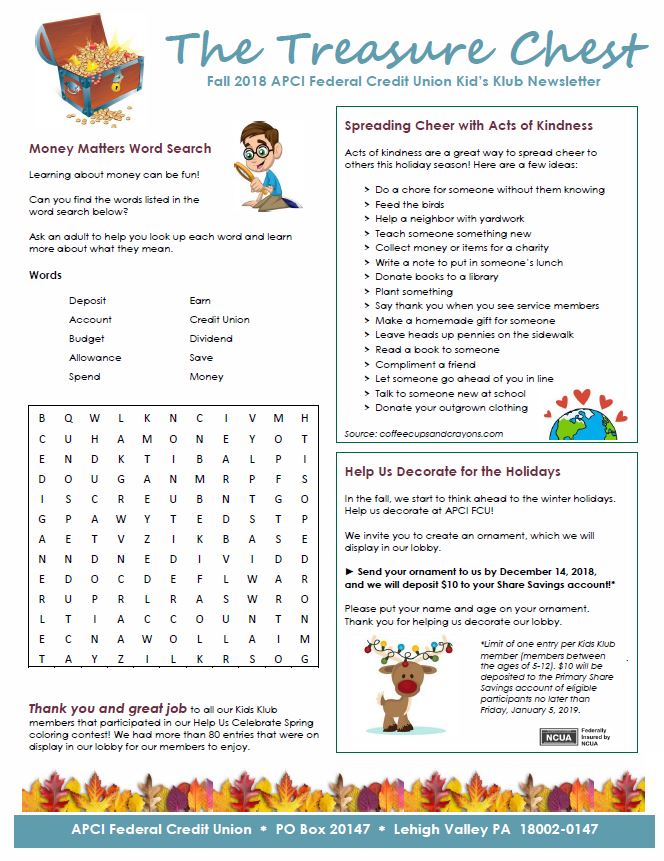 The Treasure Chest -The Newsletter of the APCI FCU Kids Klub





Check Out these Cool Links...
What the Words Mean...
Deposit - to put money into an account
Withdrawal - to take money out of an account
Teller - the person at the credit union who takes deposits and withdrawals
Savings Account - an account where money is kept to accumulate interest and grow
Dividends - the money you earn on the money you have in your savings account

Learn about earning, saving, and spending money and much more when you're in the CU Kids Klub!